Overview of Bail Bond & Bounty Hunter Laws
This is a brief overview of the various laws for each state concerning Bail Enforcement, Bounty Hunters, Fugitive Apprehension and Bail Bondsman. This is not legal advice. Laws change frequently, please check each state as there are links provided for possible updates and current information.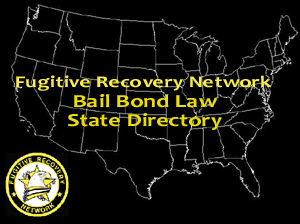 Provisions of the Uniform Criminal Extradition Act applies to all of the following except Missouri and South Carolina. Also, keep in mind that the arrest of a principal by a surety is always for purposes of surrendering him back to judicial authorities. In addition, the states use different terminology for the same thing, for example, bail, surety, bondsman, and bail bond agent mean the same thing. Defendant means the same thing as the accused or the principal. Bounty hunters are also called bail fugitive recovery agents, bail recovery agents, etc. Also please note that many states require those performing the apprehension to be in possession of a certified copy of the undertaking. The purpose of this is twofold (1) to show they have the authority to arrest the defendant, and (2) the judicial or law enforcement officers to whom the defendant is surrendered will require it in order to protect them from a charge of false imprisonment.
State
Synopsis of Current Law
Pending Legislation
AK
Alaska permits arrests to be made by private persons (AS 12.12.010, 12.25.030) and the surety may personally arrest the defendant for surrender before final charging (AS 09.40.200). UCEA
AL
Alabama gives wide latitude to bondsmen to arrest their principals. (Code of Alabama 15-13-62) The bondsman can authorize another to apprehend the fugitive by endorsing a certified copy of the undertaking (15-13-117). The bondsman or his agent can pursue the principal anywhere in the state, must possess a certified copy of the bond, must clearly identify himself and his purpose, and can enter a dwelling for this purpose. The principal has to be surrendered to the sheriff of the county of jurisdiction. (15-13-63). An out of state bondsman shall have a certified copy of the undertaking when apprehending the principal (15-13-124). UCEA
H 593 would prohibit fugitive recovery near a school or child care facility.
AR
Nobody can represent himself as a bounty hunter or bail recovery agent in Arkansas. Only a licensed private investigator, a person under his direct supervision, a licensed bondsman from the state where the bond was issued, and sworn peace officers can arrest bail fugitives. Such persons must be at least 21 years of age and have no felony record. Bondsman must notify local law enforcement of his presence, the name and charges and suspected location of the defendant. Violation is a class D felony. (Arkansas Code of 1999, 16-84-114). UCEA
H 2222 defines who can recover bail fugitives. Enacted 05APR01
AZ
License required. A surety may empower a bail recovery agent to arrest a defendant (ARSA 20-282.10). The bail recovery agent may not enter a residence without permission, nor make an arrest without written authorization from an Arizona licensed bail bondsman, nor wear law enforcement- like apparel. The recovery agent must identify himself as such. Out of state bondsmen must contract for a recovery agent through an Arizona bondsman. Bondsman must report in writing to DOI name of recovery agent. Violation is a class 5 felony. (ARSA 13-3885). A recovery agent must submit to the DOI triennially a new set of fingerprints for a criminal background check. He cannot have been convicted of a felony or an offense using a dangerous weapon. (ARSA 20-323) UCEA
CA
License required. In September 1999, A 243, the Bail Fugitive Recovery Persons Act, was passed which added section 1299 to the Penal Code. This law provides for the regulation of bail fugitive recovery persons, defined as a person given written authorization by a bail or depositor of bail and contracted to investigate, surveil, locate, and arrest a bail fugitive and any person employed to assist the bail or depositor of bail to do same. The law requires that the bail fugitive recovery person be at least 18 years old and complete 2 power of arrest courses. This law requires that a person authorized to apprehend a bail fugitive notify local law enforcement of his intent to apprehend 6 hours prior. This law prohibits a bail fugitive recovery person from forcibly entering a premises for that purpose except pursuant to certain existing provisions of law governing arrest by a private person. Any person authorized to apprehend a bail fugitive is required to carry certification of completion of required courses and training programs, and shall not wear a badge or law enforcement type apparel, not carry a firearm or weapon except in compliance with state law. Violation of this statute is a misdemeanor. The law remains in effect only until January 1, 2005 subject to another statute deleting or extending that date. (Penal Code, Part 2, Title 10, Chapter 1, Article 5.5, Section 1299 and Insurance Code, Section 1810.7) In addition, a bounty hunter or bond agent who captures a defendant in California must go through extradition procedures to transport him interstate. [CA Penal Code 847.5 (1995 West); Ouzts v Maryland Nat'l Ins.Co. 505 F.2d 547 (9th Cir. 1974)]. After an arrest of a defendant on bail, the surety must deliver him to the court or the police within 48 hours if it occurs in California. If it occurs out of state, the surety must deliver the defendant within 48 hours of returning to California. (CA Penal Code 1301). UCEA
CO
A surety with a certified copy of the bond may apprehend the defendant. (CRSA 16-4-108) A surety is prohibited from contracting with a bail recovery person, guilty of a felony within the last 15 years, or who has not been trained in bail recovery practices. A recovery agent must submit fingerprints to the Colorado Bureau of Investigation, undergo a background check (12-17-105.5), and receive verification of a certificate of completion of the Peace Office Standards and Training Board (POST) bail recovery course. Bail recovery personnel must also have fingerprints on file with local police or sheriff. (12-7-101 et seq.), UCEA
CT
License required. Before apprehending a principal, a professional bondsman (licensed under CT Special and Public Acts, Ch 533), a surety bond agent (licensed under Ch 700f) or a bail enforcement agent (licensed under CGSA Sec 29-152 (f) to (l)) must notify law enforcement of the jurisdiction in which the principal is thought to be (29-152(k)). Under (Sec 29-152 (f) to (l)) bail recovery personnel are not allowed to wear law enforcement-like apparel or badges (29-152(l)), and if firearms are carried a permit is required (29-152(m)). License requires training (20 hours) and background checks. No felony record allowed. Police officers are forbidden from being bounty hunters. Violation is punished by a fine not over $1,000 and/or two years in jail and permanent loss of license (29-152(n)).UCEA
H 5726. Clarifies licensing standards, conduct provisions, etc.
DC
The District is hostile both to commercial bail and to bounty hunters. A Maryland bail agent recently entered DC to pick up a fugitive and first called for police back up. The police arrested him for possession of a firearm, and let the fugitive go because the warrant in the bondsman's possession had not been entered into NCIC. (DCCode 23) UCEA
DE
A surety can apprehend and surrender his principal. (X. General provisions. Rule 46.) UCEA
H 176 requires bail enforcement agents to have a license & register with Department of Public Safety.
FL
Free lance bounty hunters banned. Does not allow bounty hunters. Fugitives can only be recovered by those to whom they are bonded out. One cannot make an arrest on an out of state bond unless the person is licensed in the state or the state where the bond was written. Violation of the statute is a 3rd class felony. (Florida Statutes 648.30 (2)(3)). UCEA
GA
As of 01 July 1999, in Georgia, arresting agent must be at least 25, possess a Georgia firearms permit (if carrying), be a US citizen, if out of state from a state that has no licensing/training requirements, must contract a Georgia licensed agent, no law enforcement style apparel, must carry ID from bondsman with physical description and bondsman's signature, notification to local authorities required by phone or fax if pick up is in private home (not required if apprehension is in public). (OCGA 17-6-50 through 58)) UCEA
HI
The surety may at any time surrender the principal (HRS 804-14) (HRS (Insurance) 431:1-210) UCEA
IA
License required. Bounty hunters must be licensed and notify local police of a defendant's location before making an arrest. (IA CODE 80A.3). A victim can sue a bail bond agent as well as the bounty hunter for misconduct. (IA CODE 80A.16A) A bounty hunter cannot enter the home of or use force against an innocent third party. (State v McFarland, 598 N.W.2nd 318 (Iowa Ct. App. 1999)). In Iowa, the surety, subject to the limitations of IA CODE 80A, may at any time arrest the defendant at any place in the state and by written authority on a certified copy of the undertaking may empower any person of suitable age and discretion to do so. (IA CODE 811.8) UCEA
ID
The surety may at any time arrest the defendant at any place in Idaho (IS 8-111) and by written authority on a certified copy of the undertaking may empower any person of suitable age and discretion to do so. (19-2925) UCEA
IL
Bounty hunters banned. Illinois is a state unfriendly to commercial bail. A statute was enacted in 1963 designed to eliminate the commercial bail bond industry. See Schlib v Kuebel, 264 N.E.2nd 377, 380 (Ill. 1970), aff'd 404 U.S. 357 (1971); Ill. Stat. Ch. 725 Sec.s 5/110-7, 5/110-8. "No bail bondsman from any state may seize or transport unwillingly any person found in this State who is allegedly in violation of a bail bond posted in some other state." Ill. Stat. Ch. 725 Sec. 5/103-9. UCEA
IN
License required. A surety, or a person authorized by him with a certified copy of the undertaking, may apprehend a principal in any county in the state (IC 35-1-22-7). Recovery agents must be licensed (IC 27-10-3-1(1997). To obtain a license, recovery agents must be at least 18, a citizen of the US, a resident of IN for at least 6 months, 10 years since a felony conviction, 5 years since a misdemeanor. (IC 27-10-3-5.) They must pass an examination given by the state. (IC 27-10-3-6). Recovery agents must notify the sheriff in their respective locales of their residence (IC 27-10-3-17) and bail bond agents must give the state a list of recovery agents they employ (IC 27-10-3-14). Forcible entry into a private dwelling of a third party to arrest the principal is prohibited (IC 35-33-1-4) (IC 27-10-2-7) Mishler v State, 660 N.E.2nd 343 (Ind App. 1996). UCEA
KS
The surety , or a person authorized by the surety, may arrest the defendant to be delivered to the county in which he is charged. (KS 22-2809) UCEA
KY
Bounty hunters banned. No bail bondsman or his agent can arrest, detain, and remove from the state a bail fugitive unless a warrant has been issued for the defendant (KRS 440.270(2)). To get the warrant, a "credible" person has to appear before a judge, the judge has to issue it, and the arrest must be made by a peace officer. Defendant then answers the charge before a judge in the county in which he was arrested (KRS 440.270(1). Kentucky expressly outlaws the commercial bail bond industry. KRS 431.510 (outlawing commercial bail bond industry); See Stephens v Bonding Assoc. Of Kentucky, 538 S. W.2nd 580 (Ky 1976) (upholding statute).UCEA.
LA
License required. All recovery agents must be licensed by DOI. There are education requirements to obtain and keep license. Out of state recovery personnel must contract with a bail agent licensed in Louisiana. Recovery personnel required to wear apparel identifying bail bond company during apprehension or surrender in a private residence. For apprehension in a private residence, notification of local law enforcement required. (LAC Title 37, Part XIII, Ch. 49, Reg 65, Sec. 4901 et seq.) UCEA
MA
The surety to whose exclusive custody the principal is released has legal control over the principal to ensure his appearance. (MGL Ch 276, Sec. 58, Sec. 68, & Sec. 69) The surety can forcibly enter the dwelling of the principal to apprehend him. (Ch 276, Sec. 68) UCEA
H 1481 Bail recovery agents must register with Department of Public Safety prior to a recovery.
MD
The surety can surrender the principal. (Rule 4-217, Section (h)(2) and (I)(3)(Annotated Code of MD, Art. 41, Ch.2) UCEA
H 912 would require licensing for recovery agents.
ME
The surety is responsible for the principal's appearance at all times before the verdict, and the defendant's compliance with conditions of release (15 MRS 105A-1072). UCEA
MI
The surety may arrest the principal and is entitled to the assistance of law enforcement (MCL 765.26). UCEA
MN
The surety has the authority and right to arrest the principal (MS 625.18), or cause him to be arrested. He must give notice to the sheriff before apprehension (629.63). UCEA
MO
The surety or any person authorized by him may with a copy of the recognizance apprehend the principal in any county of the state. (MRS Title 37, Ch. 544.600) UCEA does not apply in Missouri.
S 246 (Sec. 374.782 to 374.789) Bill regulating licensing of bail recovery agents.

H 853/S 560 allows recovery agents to carry concealed weapons

MS
License required. Bail enforcement agents must be licensed and be at least 21 years of age, a resident of MS for at least one year, and have no felony record (MS Code 83-39-3). A surety may before final judgement arrest the principal anywhere or authorize another to do so. (MS Code 99-5-27) A surety, by presenting a certified copy of the bond, can request law enforcement to arrest the principal. The surety must accompany the officer to receive the principal. (99-5-29) UCEA
MT
The surety may at any time arrest the defendant or by written authority on a certified copy of the undertaking empower any person of suitable age and discretion to do it. (MCA, 46-9-205 & 510) UCEA
NC
Free lance bounty hunters banned. The surety may take the principal into custody at any time or place or by written authority on a certified copy of the undertaking request any judicial officer to arrest the principal (NCGS Ch 85C-7) ((Insurance) 58-71-25&30, 1-434) or by written authority on a certified copy of the undertaking empower any person over 21 to do so. Bounty hunters can only work for one bonding company (NCGS 58-71-65)[1996] Bondsmen and runners cannot enter the homes of third parties to apprehend a fugitive. (State v Mathis, 509 S.E.2nd 155 (N.C. 1998)) UCEA
ND
A surety may arrest the defendant before the forfeiture of the undertaking, or by written authority on a certified copy of the undertaking, empower a peace officer to make the arrest. (NDCC( Insurance) 26.1-26.6-07) (29-08-20) (NDR Crim. Proc., Rule 46) UCEA
NE
The surety may at any time before judgment seize the defendant for surrender to the sheriff of the county in question. (NS 29-906) UCEA
NH
Recovery agents must be trained and certified through a program approved by the Professional Bail Agents of the US, and register with the Secretary of State who will issue proof of registration. Bail agency must have at least $300,000 in liability insurance for recovery activities, and recovery agents acting as independent contractors must have liability of insurance of at least $300,000. A surety or bail fugitive recovery agent must notify local law enforcement of the jurisdiction in which the recovery is to be made. (NRS 597:7-b) UCEA
H 657 Prohibits convicted felons from being a recovery agents.
NJ
Surety can make a civil arrest of the defendant but the defendant must have the same rights and protections as if arrested on a criminal charge. The return of the defendant must be made within 20 days after the action is taken by the court against the surety for non appearance of the principal (NJPS 2A:15-47). UCEA
NM
The surety may at any time apprehend the defendant and return him to the sheriff of the county of jurisdiction along with a certified copy of the order admitting the defendant to bail and a certified copy of the bond. (NMSA 31-3-3) The bondsman's authority to arrest a principal does not absolve him of criminal responsibility for armed, unauthorized forcible entry into a third party's residence. (NMSA 31-4-14) UCEA
NV
License required. Since 1997, one must use a bail enforcement agent licensed in Nevada for recovery operations (NRS 697 et seq.). Fugitive recovery can also be done by the bail bond agent (even one from out of state) who bonded out the defendant (NRS 178.526). Qualifications for a bail recovery agent license (NRS 697.173) are: be 21 years of age, high school or GED diploma, pass drug test 30 before application, pass a written exam, an exam by a Nevada licensed psychologist or psychiatrist, no felony, moral turpitude, or drug convictions, and 80 hours of training (NRS 697.177). After making an arrest, the bail enforcement agent must notify the local law enforcement agency of the jurisdiction in which the defendant was apprehended of his identity, the identity of the defendant, and where the defendant is being taken to be surrendered. Before forcibly entering an inhabited dwelling, a bail enforcement agent must notify local law enforcement (NRS 697-325). UCEA
NY
At any time a surety may take a principal into custody at any place in the state and by written authority on a certified copy of the bail bond may empower any person over 20 to do so. (Crim. Proc. Title P, Div, 3, art. 530.80 & 540) UCEA
A 1432 (enacted 21 NOV 00)and S 4719 Provide for licensing of bail enforcement.
OH
The surety may at anytime or place arrest the defendant or by written authority on a certified copy of the bond empower any person of suitable age and discretion to do so ( ORSA 2713-22) UCEA
H 730 provides for the regulation of bail recovery operations. Enacted 05JAN01
OK
A surety may at any time and place in the state arrest his principal, or by written authority on a certified copy of the undertaking, empower another of suitable age and discretion to do so. (OK S, Title 39.1328 & 1329) (Crim. Proc. 1107). Out of state bounty hunter or bond agent must be accompanied by peace officer or licensed Oklahoma bond agent when seeking to apprehend a fugitive (OK S 1750.14). UCEA
H 1786/S 445 Regulates bail recovery agents
OR
Bounty hunters banned. Oregon is another state outlawing commercial bail. Defendant can only be released from custody on conditional release, deposit bond, or his own recognizance (i.e., no surety bonds). Arrest by a private party is regulated by ORS 133.225. In State v Epps, 585 P.2nd 425 (Or. 1978), the Oregon Supreme Court abolished the broad common law rights of bounty hunters and bond agents, and applied the UCEA to bounty hunters seeking to take defendants over state lines. ORS, Title 56, Ch 731 for insurance. UCEA
PA
The surety upon receiving a bail piece from the court may apprehend the defendant wherever and whenever found (Rules of Crim. Proc. Ch 4016). A bondsman has a right to pursue and arrest the principal in another state. (Key#80 of Penn Digest 2d CA Pa 1971) UCEA
RI
The surety at any time can surrender his principal to the court or magistrate of jurisdiction. (RIC 12-13-18) UCEA
SC
Free lance bounty hunters banned. The surety may at any time and place arrest the principal, or by written authority of a certified copy of the undertaking, empower anyone of suitable age and discretion to do so. (South Carolina Code of laws, Civil Remedies and Procedures 15-17-740) ((Insurance) 38-53-50 & 60) UCEA does not apply in South Carolina.
SD
Licence required. A surety may arrest a defendant who violates the conditions of his release (SDCL 23A-43-29) ((Insurance) 58-22-1 thru 48). A bail runner must be licensed, and have no felony record (SDCL 58-22-12, 58-22-13) must submit fingerprints (58-22-16) and must pass a written examination. A bond agent must notify the state of the runners they employ (SDCL 58-22-27, 58-22-52). Out of state bail agent or runner must notify local law enforcement where he intends to conduct activities, and present evidence of an out of state license. If he has no license, he cannot conduct search and arrest activities. (58-22-51). UCEA
TN
A bounty hunter cannot have a criminal record, must notify the local police of defendant's location, and present to the police a copy of the warrant, a copy of the bond, and evidence that the bounty hunter has been hired by the bond agent. (TC 40-11-3). The surety may arrest the defendant on a certified copy of the undertaking in any place in the state and by written authority on such a copy empower another to make the arrest (TC 40-11-133) The surety is also entitled to the assistance of the sheriff of any county to make the arrest. The certified copy of the undertaking must be exhibited to the principal upon arrest. (40-11-134) UCEA
S 221 Bondsman liable for damage if address is wrong.
TX
The surety can apprehend and surrender the accused at any time. (TS 17.16 (282)(330)(318) also the surety can obtain a warrant to arrest the principal which warrant can be acted upon by a peace officer, security officer, or private investigator licensed in Texas (17.19). A judicial warrant is required to arrest with force (TS 17.19 [Vernon 1977]); see Austin v State 541 S.W.2d 162 (Tex. Cr. App. 1976). UCEA
H 1848 Only a licensed PI or the bail bond surety can do recovery work.
UT
License required. The surety may arrest the defendant at any time or place in the state. Surrender of the defendant to a peace officer must be accompanied by a duplicate copies of a certified copy of the undertaking. (UC 77-20-8) Bail enforcement agents shall be licensed (53-11-107), be 21 years old, a citizen or legal resident of the US, pass a state background check, complete training, and perform minimum time in the field as an apprentice, a bond agent, or a law enforcement officer. (UC 53-11-108 et seq.). Bail enforcement agents shall identify themselves as such (53-11-122) and not wear law enforcement-like apparel or badges (53-11-121). They shall notify local law enforcement not less than 24 hours before action is taken, when an occupied structure is to entered for arrest, and must carry written documentation as a cause of action (53-11-123). A bond company from outside Utah may hire, under contract, a licensed recovery agent for any needed apprehension within Utah. UCEA
VA
A surety may at any time arrest his principal and surrender him to the court in question. (Code of Virginia 19.2-149) UCEA
H 582/H 2569. Regulates bail fugitive recovery.
VT
Surety presents a bail piece to a justice of the peace who issues a warrant directing any sheriff or constable in the state to assist the surety in apprehension of the principal. (VS Ch 125, Sec. 3477 and 3484) Also, a surety may arrest and surrender his principal at any time either personally or by agent (Ch 229, Sec. 7562) UCEA
WA
Surety may return defendant to custody. (RCW 10.19.160)

Licensing of bail bond agents. (18.185) UCEA

H1482. Similar to CA requirements.
WI
Bounty hunters banned. The surety may arrest the principal or by written authority on a certified copy of the bond, empower another to do so. (WS 818.21)(969.14) But WS 969.12 provides that no surety can be compensated for serving as a surety, effectively eliminating the commercial bond market. See Kahn v McCormack, 299 N.W.2nd 279 (Ct. App. 1980)(upholding constitutionality of statute and stating that the purpose of the law is to eliminate the commercial bond industry). UCEA
WV
License required. All "bail bond enforcers" must register with the West Virginia state police. That registration must: (1) identify at least one bail agent for whom the enforcer is authorized to act, (2) include written authorization from that bonding agent, (3) include the enforcer's certified fingerprints, and (4) include one photograph. To register, an enforcer must be at least 21 years of age, a citizen of the US, and have no felony convictions. A bonding agent can grant an ongoing 2-year authorization to an enforcer who is a West Virginia citizen to seek all defendants for whom the bonding agent acts as surety. The bonding agent otherwise can grant a 60-day authorization to an enforcer, in which case the enforcer must notify the state police of the time and place of any proposed actions, and if the enforcer is not a state resident, he also must notify the police the date he will enter the state. Out of state bounty hunters must abide by the same requirements of in-state (including written authorization from a in-state bail agent). An enforcer is to be considered the legal agent of the bail agent. An enforcer cannot: (1) enter an occupied residential structure (i.e. house or apartment) without the consent of the occupants who are then present, (2) arrest a defendant without written authorization from the bondsman, (3) wear or carry any uniform or badge that implies that the enforcer is a state agent or employee (but "may display identification that indicates his or her status as a bail bond enforcer only"), and (4) must exercise due care to protect the safety of third parties. WV H 4481 (Enacted, April 4, 2000)

(WVC 51-10A, 56-3-34)

WY
The surety may arrest the principal or by written authority on a certified copy of the bond, empower another to do so. (Rules of Crim. Proc., Rule 46) UCEA