Oregon Laws Regarding Bail Bonds & Bounty Hunters
Below is basic information on bail bond laws for Oregon concerning Bail Enforcement, Bounty Hunters, Fugitive Apprehension and Bail Bondsman. This is not legal advice. Laws change frequently, please check the links provided for possible updates and current information.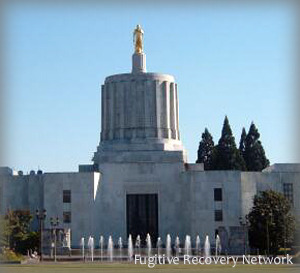 Bail bond law state statutes:

Defendant only can be released from custody on conditional release, deposit bond, or on his own recognizance (i.e. no surety bonds).  OR Rev. Stat. § 135.255, .260, .265.  In State v. Epps, 585 P .2nd 425

Chapter 217 Oregon Laws 1999 Session Law AN ACT – HB 2526

Relating to rewards; amending ORS 131.885, 131.890, 131.892 and 131.897.
Be It Enacted by the People of the State of Oregon:

§ 1. ORS 131.885 is amended to read:

If any person charged with or convicted of any felony within this state breaks prison, escapes, absconds or flees or hides from justice, the county court or county governing body of the county in which the crime was committed, if the court or governing body deems it necessary, may offer a reward [ not exceeding $1,000 ] for information leading to the apprehension of such person by the appropriate police authority.

§ 2. ORS 131.890 is amended to read:

(1) Any person providing information leading to the apprehension of a person for whom a reward has been offered under ORS 131.885 is entitled to and shall be paid the reward offered under ORS 131.885 or a proportionate share thereof if more than one claimant is entitled.
(2) No public money may be used to pay a reward to a bounty hunter under this section. As used in this subsection, "bounty hunter" means a private person who is in the business of apprehending persons who have forfeited security or broken the terms of a security release, fled from justice or escaped from confinement.

§ 3. ORS 131.892 is amended to read:

131.892. An organization, association or person may offer a reward [ not exceeding $5,000 ] for information leading to the apprehension and conviction of any person who has committed a criminal offense.

§ 4. ORS 131.897 is amended to read:

(1) In addition to any other sentence it may impose as a result of a criminal conviction, the court may order that a defendant reimburse to a person, organization, association or public body or officer, any sum or portion thereof offered [ not exceeding $5,000, ] and paid by the person, organization, association or public body or officer under ORS 131.885 to 131.895, as a reward for information leading to the apprehension of the defendant. Reimbursement under this section shall be ordered paid into the court, for further transfer by the clerk to the person, organization, association or public body or officer entitled to it. The monetary obligation described in this section is a category 4 obligation under ORS 137.295.
(2) In determining whether to order reimbursement under this section, the court shall take into account:

(a) The financial resources of the defendant and the burden that reimbursement will impose, with due regard to the other obligations of the defendant; and
(b) The ability of the defendant to make reimbursement on an installment basis or on other conditions to be fixed by the court.

Approved by the Governor June 3, 1999
Filed in the office of Secretary of State June 3, 1999
Effective date October 23, 1999

Licensing requirements for Bail agents:

NONE – Commercial bail does not exist.

Bail agent's arrest authority.

Oregon does not permit commercial bail bonds therefore, only law enforcement offers within the state can arrest or detain individuals.

Bounty hunter (fugitive apprehension) provisions:

(Or. 1978), the Oregon Supreme court abolished the broad common law rights of bounty hunters and bond agents, and applied the Uniform Criminal Extradition Act to bounty hunters seeking take defendants over state lines.

Links to State and Local Authorities:
Please check with the Oregon's Department of Insurance, Licensing Board and/or Local Law Enforcement for the most recent updates. If you know of any updates to Oregon's bail bond laws, please provide as much detail as possible and send to us using our contact form.