California Laws Regarding Bail Bonds & Bounty Hunters
Below is basic information on bail bond laws for California concerning Bail Enforcement, Bounty Hunters, Fugitive Apprehension and Bail Bondsman. This is not legal advice. Laws change frequently, please check the links provided for possible updates and current information.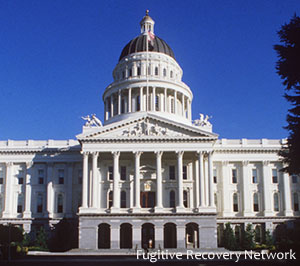 California bail bond law state statutes:
The regulatory body is the Insurance Department, but the bail industry is also subject to California's Penal Code.

California Insurance Code, Div. 1, Part 2, Ch. 7, Sections 1800-1823, (hereafter referred to as IC)
Under IC 1800.6, cities and counties are free to enact further regulations not in conflict with the IC sections cited above.
California Penal Code, Part 2, Title 10, Ch. 1, Article 5.5, Sections 1299-1317 (hereafter referred to as PC).
California Code of Regulations, Title 10, Ch. 5, Sections 2053 et seq.

California licensing requirements for Bail agents:

California provides for three kinds of bail licenses [IC 1801]: the bail agents' license [IC 1802], the bail permitees' license [IC 1802.5], and the bail solicitors' license [IC 1803]. Of concern here will be the bail agents' license, which permits the holder to solicit, negotiate, and effect undertakings of bail on behalf of any admitted surety. (A license may also be held by a corporation [IC 1810(b)]). The requirements of which license are:

a surety bond of $1000 for proper handling of money collected [IC 1802]
a notice of appointment on file with commissioner by a surety insurer [IC 1802.1]
filing an application in the form prescribed by the commissioner with such supporting documents as required [IC 1804]
filing of annual notices and applications to keep licenses in force and payment of fees by 1 May annually [IC 1808]
taking and passing a written examination given by the commissioner [IC 1810.5, 1810.6], to qualify for which the applicant must take 12 hours of classroom education in pertinent subjects [IC 1810.7(a)]
 completion annually of not less than six hours of continuing classroom education on pertinent subjects prior to renewal of license [IC 1810.7(a)]
payment of a license application fee of $118.00 [IC 1811(a)]

The regulatory body is the Insurance Department.

California bail agent's arrest authority.

California Penal code allows the agent to arrest the principal himself or empower another to do so. [PC 1301].

California bounty hunter (fugitive apprehension) provisions:

In September 1999, California enacted a law (A 243) regulating bounty hunters, termed "bail fugitive recovery persons" in the statute. This law added section 1299 to the California Penal Code. The bail fugitive recovery person is defined as one who has "written authorization" by a bail agent, surety, etc., (under PC 1300 and 1301) and is contracted to investigate, surveil, locate, and arrest a bail fugitive for surrender to appropriate authorities, or any person employed to assist in the arrest of such a fugitive.

Licensing Requirements. [PC 1299.04(a)(1)-(5)]
be at least 18 years old [PC 1299.04(a)(1)]
completion of a 40 hour [PC 1299.04(a)(2)]
completion of a minimum of 20 hours classroom education pursuant to IC 1810.7 [PC 1299.04(a)(3)]
completion of a training course in the exercise of the power to arrest pursuant to Section 7583.7 of Business and Professions Code [PC 1299.04(a)(4)]
no felony convictions [PC 1299.03(a)(5)]
 Arrest Authority. [PC 1299.02]

1 – update courtesy of Anthony Corsini with American Bail Training Center

Links to State and Local Authorities:
Please check with the California's Department of Insurance, Licensing Board and/or Local Law Enforcement for the most recent updates. If you know of any updates to a California's bail bond laws, please provide as much detail as possible and send to us using our contact form.