Florida Laws Regarding Bail Bonds & Bounty Hunters
Below is basic information on bail bond laws for Florida concerning Bail Enforcement, Bounty Hunters, Fugitive Apprehension and Bail Bondsman. This is not legal advice. Laws change frequently, please check the links provided for possible updates and current information.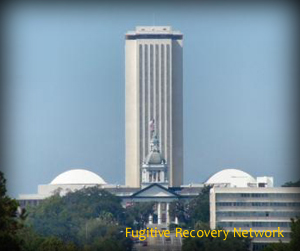 Florida bail bond law state statutes:

Flordia Statutes (FS) Chapter 648, Chapter 903
Florida Administrative Code (AR), Chapter 4-221

Governance by Local Rule. Does not appear to allow local jurisdictions to modify statutes or regulations.

Florida licensing requirements for Bail agents:

In order to undertake bail in Florida, a person must have a license [AR 4-221.001, FS 648.26, 648.30]. Florida law specifies two kinds of bail bond agent:

(1) a limited surety agent, defined as a person appointed by an insurer to execute bail bonds [FS 648.25(6)]
(2) a professional bail bond agent, defined as a person who pledges US currency as security for a bail bond [FS 648.25(7)].

Qualifications for License.

Bail bond agents [FS 648.34] must comply with the following for licensure:

an application submitted on forms prescribed by the Department of Insurance (DOI) [FS 648.34(1)],
have complied with FS 648.355 and obtained a temporary license,
be 18 years of age [FS 648.34(2)(a)],
be a resident of Florida [FS 648.34(2)(b)],
place of business must be located in a Florida county where records will be maintained and business actively conducted, accessible to the public during reasonable business hours [FS 648.34(2)(d)],
of good character with no convictions on a felony, crime of moral turpitude, or crime punishable by 1 year or more [FS 648.34(2)(e)],
passage of required examination (written [FS 648.38(1)-(10)]) [648.34(2)(f)],
payment of fee for background checks and credit report [FS 648.34(3)],
furnish photo and fingerprints with applications [FS 648.34(4)],
completion of 14 hours of continuing education courses every two years [FS 648.385].

Professional bail bond agents have the same requirements as in FS 648.34, but in addition shall:

file with application a detailed financial report [FS 648.35(1)],
file a rating plan proposed for use in writing bail bonds which must be approved by the DOI [FS 648.35(2)].

The regulatory body is the Department of Insurance (DOI) [FS 648.26]

Florida bail agent's arrest authority.

[FS 903.20]. A surety may arrest a principal for surrender to official custody before a forfeiture [FS 903.22] or within 2 years of the forfeiture date [FS 903.29].

Florida bounty hunter (fugitive apprehension) provisions:
Florida does not allow bounty hunters
Apprehension of bail fugitives is only allowed as set forth in FS 648.30 (2) & (3):

(2) No person shall represent himself or herself to be a bail enforcement agent, bounty hunter, or other similar title in [Florida].
(3) No person, other than a certified law enforcement officer, shall be authorized to apprehend, detain, or arrest a principal on a bond, wherever issued, unless that person is qualified, licensed, and appointed as provided in this chapter or licensed as a bail bond agent by the state where the bond was written.

Violation of this is a 3rd class felony. [FS 648.30 (4)]

Links to State and Local Authorities:
Please check with the Florida's Department of Insurance, Licensing Board and/or Local Law Enforcement for the most recent updates. If you know of any updates to Florida's bail bond laws, please provide as much detail as possible and send to us using our contact form.