Indiana Laws Regarding Bail Bonds & Bounty Hunters
Below is basic information on bail bond laws for Indiana concerning Bail Enforcement, Bounty Hunters, Fugitive Apprehension and Bail Bondsman. This is not legal advice. Laws change frequently, please check the links provided for possible updates and current information.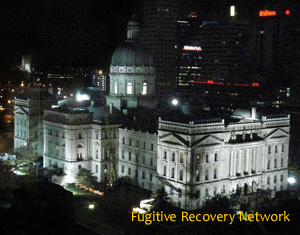 Indiana bail bond law state statutes and state court rules:

INDIANA CODE [IC] 27-10-1 to 27-10-5-3.
IC 35-33-1-4 to 35-41-3-3.
IC 760 DEPARTMENT OF INSURANCE. 760 IAC 1-6.2 governs the actions of bail agents and recovery agents.
Local governance.

Indiana licensing requirements for Bail agents:

Bail Agent's License. Licenses can only be issued to individuals [27-10-3-1 (b) (2)] not to a firm, corporation, or association [27-10-3-1 (c)]. Applicant must meet the following requirements:

at least 18 and of good moral character [27-10-3-3 (a) (1)],
never convicted of a disqualifying offense as set out in [IC 25-1-1.1] and 10 years having lapsed after a felony conviction, and 5 years after a misdemeanor [27-10-3-3 (a) (2)],
has knowledge of or instruction in the bail bond business or has held a valid all lines fire and casualty license for 1 year within the last 5, or has been employed by a bail bond company for 1 year of the last 5 [27-10-3-3 (a) (3)],
be a resident of Indiana for 1 year from date of application (waivable) [27-10-3-3 (b)],
pay license fee ($650) and examination fee ($100) [27-10-3-4 (a)] , submit fingerprints (certified by law enforcement) and photo [27-10-3-4 (b)],
take and pass in person a written examination prepared by the commissioner [27-10-3-6]

Indiana bail agent's arrest authority.

For purpose of surrendering the defendant, the surety may apprehend the defendant before or after the forfeiture of the undertaking or may empower a law enforcement officer to do so by providing written authority on a certified copy of the undertaking and the payment of lawful fees [27-10-2-7].

Indiana bounty hunter (fugitive apprehension) provisions:

Recovery agents must be licensed. [IC 27-10-3-1 (1997)] To obtain a license, recovery agents must be at least 18 years old, be a citizen of the US, be a resident of the state for at least 6 months, at least 10 years must have elapsed after any felony conviction to obtain a license (5 years for misdemeanor), [IC 27-10-3-5], and they must pass an examination given by the State [IC 27-10-3-6]. Recovery agents must notify the sheriff in their respective locales of residence [IC 127-10-3-17], and bail agents must give the state a list of recovery agents they employ [IC 27-10-3-14]. Bail agents and bounty hunters cannot forcibly enter the home of a third party. [Mishler v State, 660 N. E. 2nd 343 (Ind. App. 1996).]

Links to State and Local Authorities:
Please check with the Indiana's Department of Insurance, Licensing Board and/or Local Law Enforcement for the most recent updates. If you know of any updates to a Indiana's bail bond laws, please provide as much detail as possible and send to us using our contact form.