Alabama State Laws Regarding Bail Bond & Bounty Hunters
Below is basic information on bail bond laws for Alabama concerning Bail Enforcement, Bounty Hunters, Fugitive Apprehension and Bail Bondsman. This is not legal advice. Laws change frequently, please check the links provided for possible updates and current information.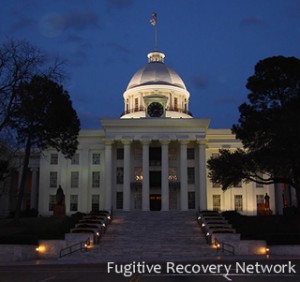 Alabama bail bond law state statutes:

Code of Alabama , Title 15: Criminal Procedure, Article 13: Bail.
Alabama Rules of Criminal Procedure, Rule 7.6

The Department of Insurance is the regulatory body.

Alabama licensing requirements for Bail agents:

Professional bondsmen must comply with the following for licensure:

Be a resident of the State of Alabama.
Have a sufficient financial net worth to satisfy the financial obligations which to enter into as a surety, taking into consideration all other outstanding obligations and liabilities.
Not been convicted of a felony or a crime involving moral turpitude.
Have no outstanding final forfeitures arising out of any surety undertaking.
Have not, within the period of two (2) years immediately preceding application date, violated any provisions of the Alabama Rules of Criminal Procedure, relating to the making of bonds or any Court order. [Ala.Code 1975 § 15-13-22]

Professional bail companies must receive an annual authorization order from the presiding circuit judge of the county in which the company desires to execute bonds. To do so, they must comply with the following:

Bail companies must furnish a bond with corporate surety in the amount of $25,000.00 ($10,000.00 in Cullman County), to be approved by the probate judge of each county in which such person engages in such business, conditioned to guarantee the payment of all sums of money that may become due the state or any political subdivision thereof by virtue of any judgment absolute being rendered against such person on a forfeiture of bail.
File an original qualifying power of attorney, letter, or other document issued by the professional bail company specifying any applicable limitations and specifying the agents who are authorized to execute and bind the professional bail company to a bail undertaking or to appearance bonds. The qualifying power of attorney, letter, or other document may only name persons as agents.
File an original affidavit or certificate in writing, under oath, executed by an owner or officer of a professional bail company, to the clerk of the circuit court of the county in which the professional bail company shall execute or become surety on appearance bonds which states that the above requirements have been met. [Ala.Code 1975 § 15-13-22]

Alabama Bail Bond agent's arrest authority.

In order for a surety to arrest a defendant, the surety must request from the court a "bondsman's process." This is a document authorizing the defendant's arrest. [Ala.Code 1975 § 15-13-124]
After the entry of conditional judgment against any surety on an undertaking of bail, he may arrest the defendant as provided in Section 15-13-62, but such arrest and delivery of the defendant to the sheriff shall not exonerate the surety unless, in the judgment of the court, a good and sufficient excuse is given for the failure of the defendant to appear at the time the conditional judgment was entered. [Ala.Code 1975 § 15-13-63]

Alabama Bounty Hunter (Fugitive Apprehension) provisions:

Alabama does not have provisions regarding bounty hunters.

Links to Alabama State and Local Authorities:
Please check with the Alabama's Department of Insurance, Licensing Board and Local Law Enforcement for the most recent updates. If you know of any updates to Alabama's bail bond laws, please provide as much detail as possible and send to us using our contact form.