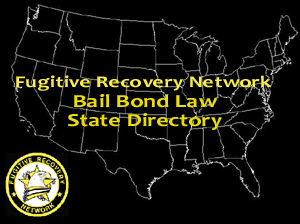 Since 2001, Fugitive Recovery Network has provided the most current bounty hunter & bail bond laws that we have gathered for each State. This is not legal advice as laws change frequently and we may not have been informed of the modifications. Please check with the State's Department of Insurance, State Licensing Board and Local Law Enforcement for the most recent updates.
If you know of any updates to a State's bail bond laws, please provide as much detail as possible and send to us using our contact form.
This U.S. Supreme Court Case is what most refer to regarding the rights to apprehend a fugitive for failure to appear (FTA) in court. The single paragraph below is commonly cited:
When bail is given, the principal is regarded as delivered to the custody of his sureties. Their dominion is a continuance of the original imprisonment. Whenever they choose to do so, they may seize him and deliver him up in their discharge; and if that cannot be done at once, they may imprison him until it can be done. They may exercise their rights in person or by agent. They may pursue him into another State; may arrest him on the Sabbath; and if necessary, may break and enter his house for that purpose. The seizure is not made by virtue of new process. None is needed. It is likened to the rearrest by the sheriff of an escaping prisoner.
Bounty Hunter & Bail Bond Laws
The bail bond laws that we have collected are the most current we can locate on record. Each state may have their own rules and regulations regarding, the licensing of a bail bondsman, as well as, the apprehension of a fleeing subject. The state bail bond laws are outlined according to the following scheme with some variation to fit the state in question:
State bail bond laws state statutes:

Brief list of applicable statutes and/or regulations

State licensing requirements for Bail agents:

Details on how to become a licensed bail agent.

Bail agent's arrest authority.

How a bail agent can retrieve those that have "skipped" bail.

Bounty hunter (fugitive apprehension) provisions:

Rules regarding the hiring of others to retrieve fugitives.

Links to State and Local Authorities:

Links to the state website, regulatory division, courts, and other important information regarding bail bonds and/or fugitive apprehension.
There are 8 states that have banned or heavily restrict Bail Recovery Agents.
To see the complete list of State bail bond laws, visit the State Directory page