Hawaii Laws Regarding Bail Bonds & Bounty Hunters
Below is basic information on bail bond laws for Hawaii concerning Bail Enforcement, Bounty Hunters, Fugitive Apprehension and Bail Bondsman. This is not legal advice. Laws change frequently, please check the links provided for possible updates and current information.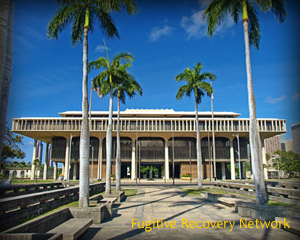 Hawaii bail bond law state statutes:
Hawaii's statutes currently do not contain comprehensive regulations for bail bond recovery or bail enforcement agents, though some provisions exist regarding forfeiture.

HRS § 804-51 Hawaii Revised Statutes Annotated Division 5.  Crimes And Criminal Proceedings Title 38. Procedural And Supplementary Provisions Chapter 804. Bail; Bond To Keep The Peace Part III. Forfeiture.

HI ST § 804- 14, 41

Hawaii licensing requirements for Bail agents:

Hawaii Revised Statutes Annotated Division 2. Business Title 25. Professions And Occupations Chapter 445. County licenses Part VIII. SOLICITORS Surety, Bail Bond — Repealed
(The statutes do not currently contain any licensing provisions for bail enforcement agents or bounty hunters, nor is there any pending legislation for such).

Hawaii bail agent's arrest authority.
The following sections from the HI statutes imply that Bail Enforcement Agents and Bounty Hunters have the authority to arrest principals by referring to their ability to "surrender" a principal into the hands of law enforcement.

HI ST § 804-14–S 804-14 Discharge of sureties.

Those who may have become bail for anyone, may at any time discharge themselves, by surrendering him to the custody of any sheriff or chief of police or his authorized subordinate.

HI ST § 804-41– S 804-41 Discharge of surety.

At any time before the breach of the condition of the bond, the surety may discharge oneself by surrendering the principal into the hands of any sheriff or the chief of police or the sheriff 's or chief 's authorized subordinate.

Hawaii bounty hunter (fugitive apprehension) provisions:

At this time, there appear to be no specific regulations for "Bounty Hunters" in the Hawaii statutes.

Links to State and Local Authorities:
Please check with the Hawaii's Department of Insurance, Licensing Board and/or Local Law Enforcement for the most recent updates. If you know of any updates to a Hawaii's bail bond laws, please provide as much detail as possible and send to us using our contact form.